DIY – STEEL CAN Air Heater! (140F+) – EASY Instructions!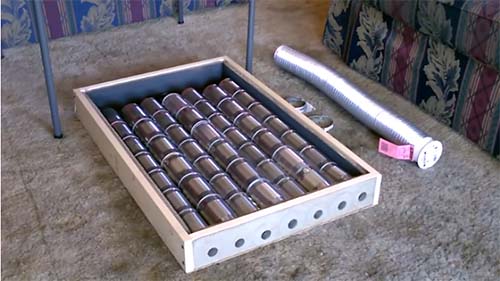 Homemade "Steel Can" Solar Air Heater. made with STEEL CANS. produces consistent flow of hot (140F+) air. video provides full instructions on how to build it. this thing moves a LOT of hot air. air enters through vents at the bottom of collector and is heated as it's pulled up through all seven columns of cans. the fan also draws heated air from the airspace surrounding the cans. all the cans are either soup or vegetable cans. one 9 foot piece of wood makes the frame. remember, they call it a (1×4) but it's actually 3/4″ thick by 3 1/2″ wide.
Insulation is cardboard (store-bought insulation board can be used as well). the glass is a 20″ by 32″ inch piece of plexi-glass. fan is a 'polar typhoon' computer cooling fan. aluminum duct is 3″ diameter. use a 5 watt solar panel (or larger) to power the fan. slightly smaller panel will work but the fan may not run at full speed with a panel smaller than 5 watts. other details: use a 2.5″ hole saw to cut hole in back of collector. use 1/4″ drill bit to drill holes in the cans. put the cans in upside down (bottoms up), use standard flat black spray paint, and remember to seal it up for permanent outdoor installation. Watch video here.